Important site rules
Due to Covid 19, there are a few small requirements we must follow.
Contact details

We are required by law to provide details of every single person that arrives at the venue. This is another reason why you have only been able to buy 1 ticket at a time.

If you intend to buy a ticket on arrival, you will be required to give the following details;
Your full name
Contact telephone number
Post code
We have created this simple form that you can use, this will need to be handed in when you arrive.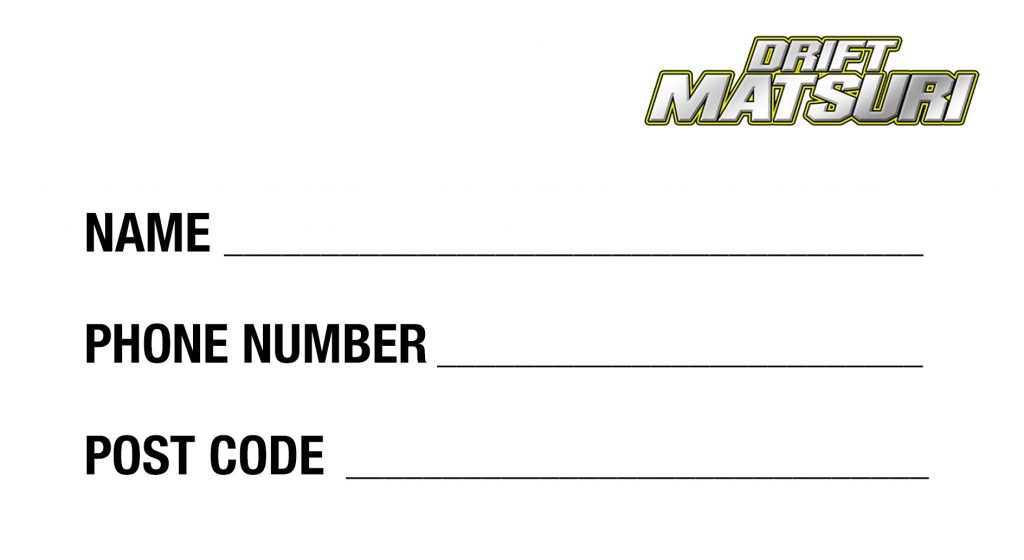 If you have bought a ticket in advance, you do not need to give your details when you arrive.
Face coverings
You will be required to wear face coverings in the following locations
Signing on office
Briefing room
Cafe (whilst queuing)
Toilets
Naked flames
There are to be no naked flames within the paddock area under any circumstances!
If you wish to use bbq's etc, they are only permitted in the camping areas.

There will be a HUGE amount of fuel in the paddock area and we simply can not take any risks.

Anyone breaking this rule, will be asked to leave the premisses with immediate effect.
Spectator parking and camping
Please use the areas marked on our previous post >> http://www.driftmatsuri.com/weekend-timetable/

The paddock area is for drift cars and support vehicles only.

Abandoned vehicles will be removed and we may stop the event until the offending vehicle(s) have been moved.

RESPECT
We are very lucky to be hosting the Matsuri at Anglesey once again and we must ALL respect that fact.
Please use the dustbins provided, there is no excuse for dropping litter.

There will be people from all walks or life attending, including children. The speed limit around the venue is 5mph.

Anyone driving fast or driving foolishly will be escorted from the venue.

Have fun!
We are all heading to the circuit to have fun and enjoy a festival of drifting over the weekend!
Stick to these very simple points and we are going to have a blast!

We look forward to seeing each and everyone of you at the weekend!