Welcome to Drift Matsuri 2014
Drift Matsuri 2014: no egos, no pressure – just maximum fun. After bursting onto the scene in 2013 with the first ever UK Drift Matsuri, the event returns in 2014 and promises to be bigger and better than ever before.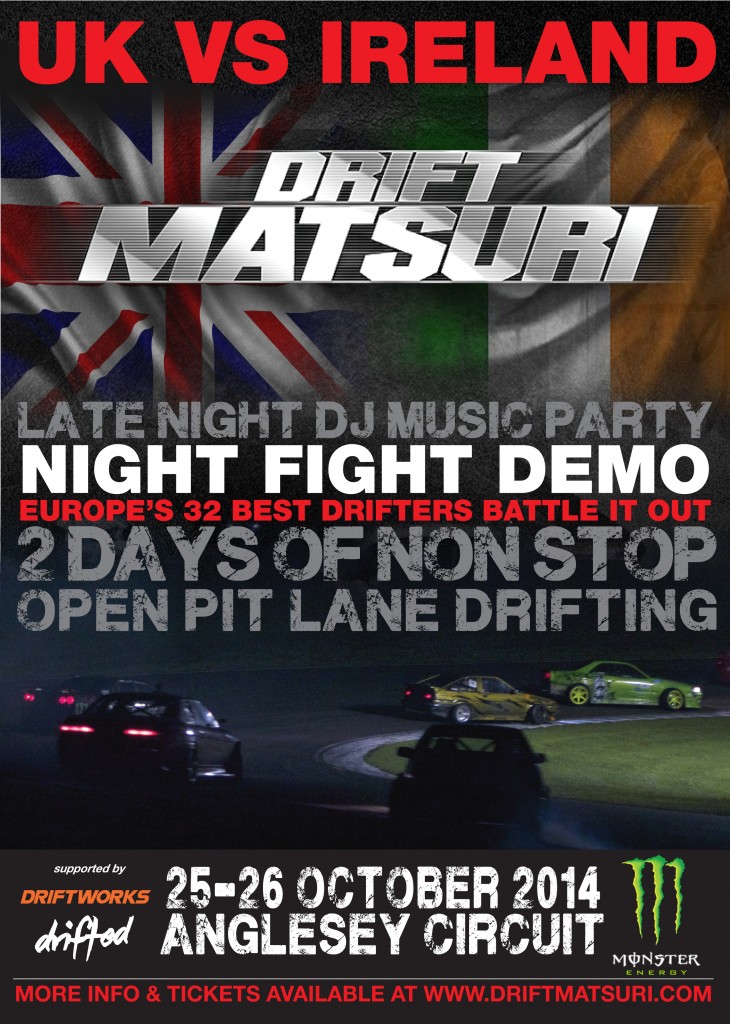 Anglesey circuit will once again play host to the event with its ultra modern facilities, vibrant atmosphere and, most importantly, three individual circuits designed with nothing but maximum fun in mind!
With the Maximum Attack, Backwards Entry and Touge courses open to all drivers on Saturday and Sunday there will be something to suit every drifter, whether they want to concentrate on their entry speeds and technique or just want to enjoy some boisterous twinning action with their mates.
Saturday evening will play host to the Night Fight demo, in which thirty two of the UK and Ireland's most talented drifters will enter the circuit and duke it out in a Top 32 battle to determine once and for all which country produces the best drifters. Headed by team captains Anthony Cahill (UK) and David Egan (Ireland) each country will throw their chosen drivers into the arena to do battle and make their home nation proud. With some of the most spectacular drivers and wildest cars competing under the cover of darkness on the fastest section of the circuit, this is one Top 32 battle not to be missed.
Drift Matsuri is all about having a good time with your mates, so when the drifting stops the party starts! Saturday night will see the return of the Drift Matsuri Late Night Party, with more details to be announced soon.
So there you have it: two full days of open pitlane drifting across three circuits, a Top 32 Night Fight demo and a massive laugh with your mates when the drifting stops. What more could you ask for?
Tickets go on sale on sale at the end of the month (a precise time and date will be announced so as to avoid any disappointment) and will be available at the following link: http://www.driftmatsuri.com/buy-tickets/.
Ticket Prices:
Saturday Open Pitlane Driver Ticket (limited to 80 drivers): £129
Sunday Open Pitlane Driver Ticket (limited to 80 drivers): £129
Saturday General Admission Ticket: £tbc
Sunday General Admission Ticket: £tbc
Weekend General Admission Ticket: £tbc
Drift passenger wristband: £tbc
Media access will be available for those photographers and videographers with the necessary PLI and credentials. More details and an application form will be released shortly.