As we get set for THE drift event to kick off the season in style, we can now show you a sight plan so you know whats on where!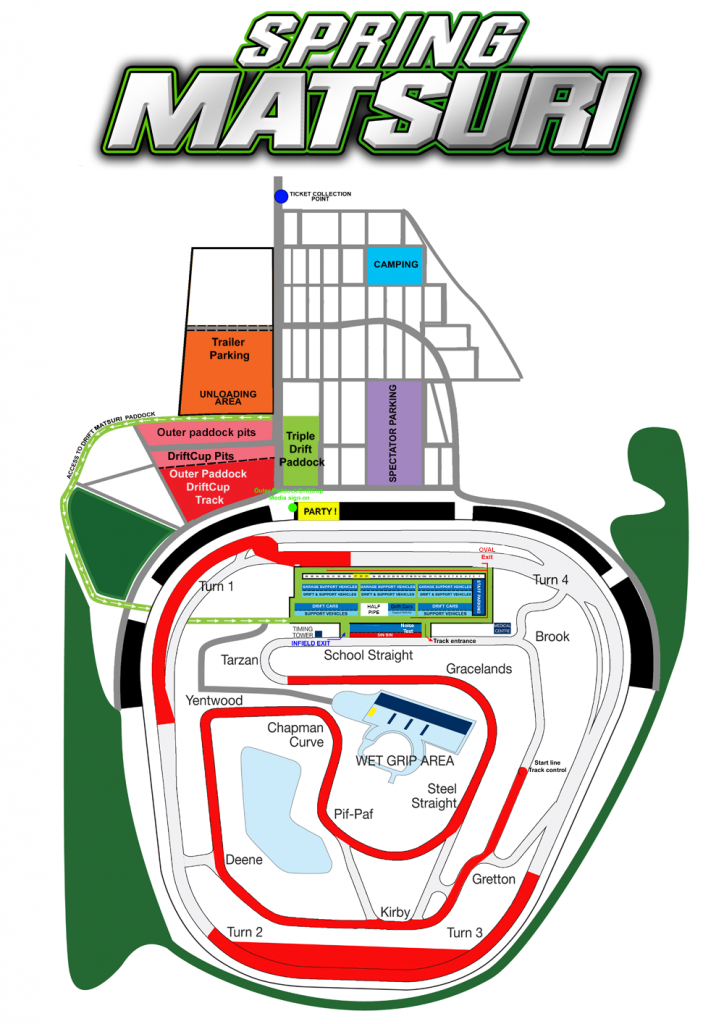 As you can see, as you arrive at the venue you will collect your tickets at the security hut when you arrive.
Make sure you have your order number with you.
If you are spectating, follow the signs for the spectator parking, this will lead you to the rear of the main grandstand.
In the middle of the main grandstand you will find the wonderful Diner that will be serving refreshments all weekend long.
There is a pedestrian walkway under the grandstand which will give you access to the inner pit area. Make sure you check out the view from the top of the pit garages!
In Garage 25/26/27 you will find the RC drift track set up, this will be a 1/10th scale replica of the Outer Paddock and HEL DriftCup track! If you have an RC drift car, bring it with you and have a go! There will be cars for you to have a go!
The half pipe will be set up in the inner paddock area where Webbie and his crew will be doing their thing!
From 16:30 the car park out side the welcome centre will become the Triple Drift paddock area,  make sure you leave this area free for the competitors!
After that there will be THE party in the Welcome Centre, Mike Lewis will be on hand playing some banging tunes until late!
On Sunday, HEL Performance DriftCup will get under way from 09:00 with practice! See the talent of tomorrow today!
Its going to be a fantastic weekend and an event NOT to be missed!
We look forward to seeing you there!